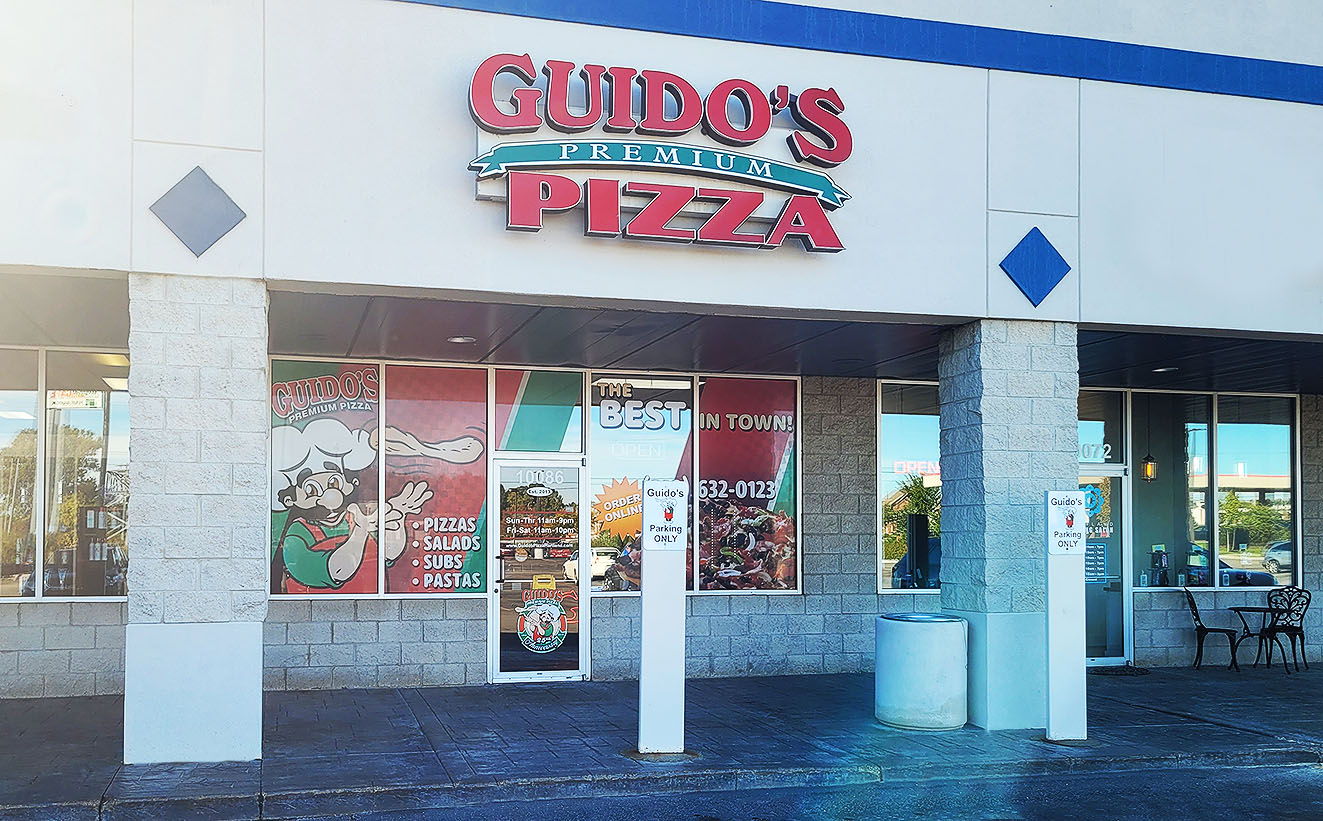 NOW HIRING!!
Open For Lunch!
Guido's Caters Any Event
Online Ordering Available
Proudly Serving "Detroit-Style" Deep Dish Pizza
Welcome to Guido's Premium Pizza Hartland
All Positions: Inside, Drivers, Assistant Managers.
Apply Online or In Person
---
Guido's Premium Pizza of Hartland's, owner, Jason, is normally working in the restaurant every day. Stop in and say hello.
Who is Guido's?
Guido's is known as 'The Savory Sauce Boss," Offering 2 sauce varieties: Original, or Spicy Fire Roasted. We are also known for our thick Detroit-Style Deep Dish. We load up your pizza with lots of fresh ingredients, to bring you a delicious value for you and your family. You can choose from our Traditional Hand -Tossed Round, Our Detroit-Style Deep Dish, Our Thin and Crispy Crust, or our "'Da Boss "
What's Good to Eat Here?
The most popular items on the menu include "The Big G"a 16"x 16", 16 piece Detroit-Style Deepdish that serves 4-6 people. Also available in Medium and Large

"Da Boss" Guido's own version of a Chicago style pizza, twice baked, sauce on top, with minced garlic and Parmesan cheese sprinkled on top. Just like Chicago, only without the long wait time. Choose up to 5 items on this one!

Stromboli is the most recent addition to the menu, made with Ham, Salami, Pepperoni, and Provolone Cheese, wrapped in our thinly stretched homemade pizza dough, then cut in 8, topped with Butter, a sprinkle of Oregano and Grated Parmesan Cheese. Try one of our savory sauces with this one!

We also have Pastas, Oven Baked Subs, Salads, Wings, and more! Guido's Premium Pizza has twelve Michigan locations offering speedy delivery service and catering for parties, meetings and events with delivery seven days a week for lunch and dinner.
Call ahead for Pick-up or Delivery
810.632.0123
Read more